"merchandise"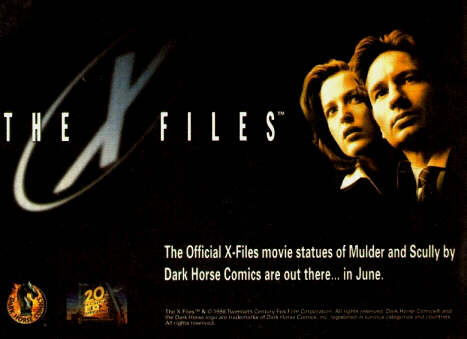 Los Soundtracks
Habrá dos sountracks, uno con la música que ya conocemos de Mark Snow, que es la que ambientara a la película, y el otro serán canciones inspiradas en la misma.
1. Dust Brothers - The X Files theme (remix)
2. Filter - One (Three Dog Night cover)
3. Tonic - Flowerman
4. Foo Fighters - Walking After You
5. Aswad featuring Sting - Invisible Sun (Police cover)
7. Cardigans - Deuce
6. Ween - Beacon Light
8. Better Than Ezra - Murder In This Town
9. The Cure - More Than This (Roxy Music cover)
10. Björk - Hunter
11. Soul Caughing - 16 Horses
12. X - Chrystal Ship (Doors cover)
13. Sarah McLachlan - Black (remix)
14. Noel Gallagher - Teotihuacan
15. Mike Oldfield - The X Files theme (bonus track en la version internacional.)


A la venta a partir del 2 de Junio.
Los Posters
Poster original (168 k)
Poster A
Poster B
Poster C
Poster 1
Poster 2
Poster 3
Poster 4
Las Figuras
Habra figuras que saldran a la venta por Mayo o Junio, seran fabricadas por McFarlane Toys, estaran disponibles en dos paquetes.
Mulder y Scully MyS con abrigos Man in Cryo-pod (mejor velo tu mismo)
Las estatuas
Las Tarjetas
Frente de la tarjeta La parte de atrás
Este verano nuevamente Topps saca a la venta tarjetas de los X-Files, esta vez sobre la película, hubo una tarjeta que se distribuyo gratis en un catalogo, según estas mismas tarjetas habrá;
Una completa cobertura de la película
Escenas detrás de las cámaras.
Puntos clave en la serie de TV.
Y las clásicas tarjetas especiales incluyendo unas autografiadas por Mitch Pileggi, William B. Davis, John Neville, Dead Haglund, Tom Braidwood, y Bruce Harwood..
A la venta a partir de Junio.
ARRIBA
Spanish Banner:Intercambio de Enlaces.